Exhibition »between inside and outside«
Prints on the architecture of the Federal Council building
15.09. – 03.11.2023
Artist: Oliver Siebe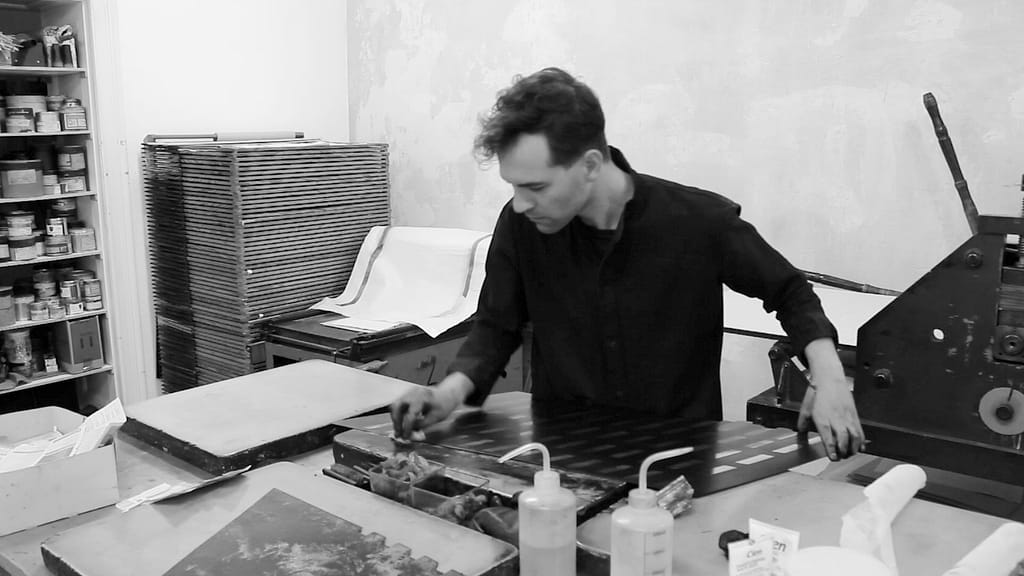 The content of the exhibition is an artistic examination of the architectural concept of the Bundesrat's building extension in Berlin, which is still in the planning stage. The overarching theme of the prints created between 2020 and 2023 is the changing relationship of architecture between interior and exterior space. The building was designed by architect Max Dudler, in whose office Oliver Siebe has been involved in the planning of the project since 2018.
The personal artistic reception of the not yet materialized architecture finds expression in 13 large-format prints in different techniques from aquatint, line etching, drypoint etching to embossing and paper cutting. The way in which the graphics are depicted and their relationship to the technical architectural drawing reflects the proximity to the architect's planning practice.
Design themes of architecture are extracted from the overall context and reduced to their essential character in a highly simplified graphic, thus illustrating the special features and specifics of the architectural design.
The exhibition will be shown in Druckgraphik Atelier, where the works enter into a special dialogue with the place where they were created. The printed sheet and the associated printing plate hang in a juxtaposition, making it possible for the viewer to understand the print and the printing form. A documentary short film by Oliver Siebe and Delia Frey shows the archaic production process of an aquatint etching from the production of the printing plate to the first print.
Oliver Siebe lives and works as an architect in Berlin. During his architectural studies at the Berlin University of the Arts, he discovered etching as an expressive art form for himself and gained his first experience in the etching workshop and the metal workshop at the Institute of Art there. With the support of the painter and graphic artist Eberhard Hartwig, Oliver Siebe acquires further skills in the printing trade in his Berlin studio.