Aquatint • Etching • Intaglio
Thu. and Fri. October 5—6, 1—6 p.m.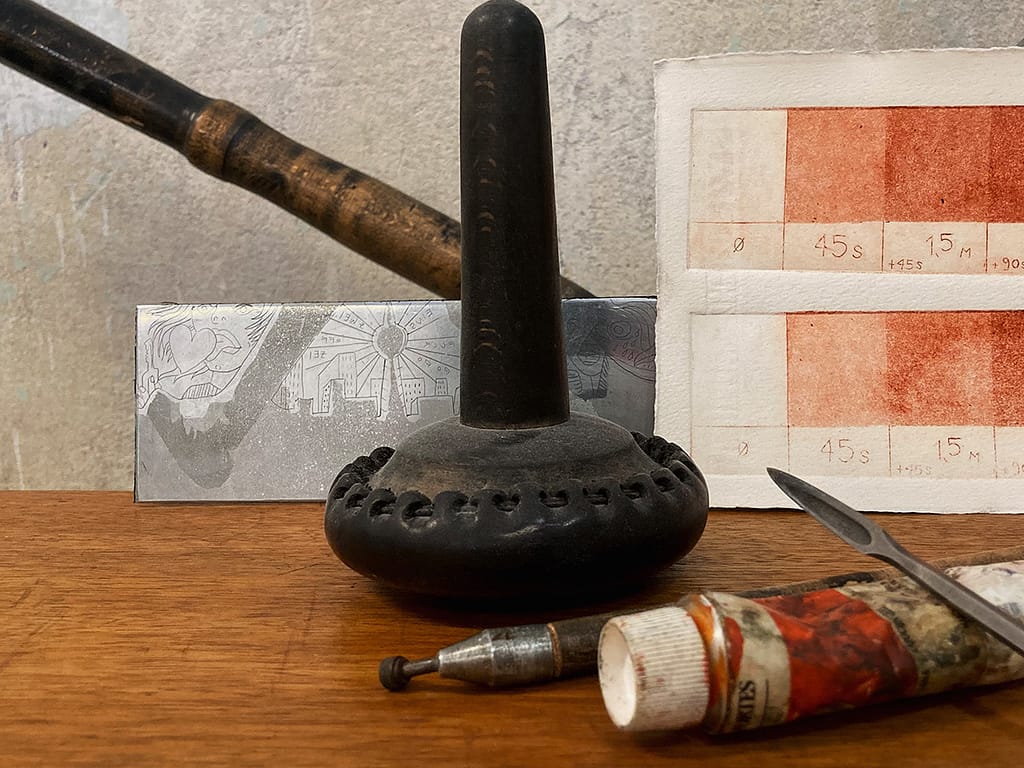 The great engraver Albrecht Dürer already produced some masterpieces of etching. With the development of a suitable copper base, the line etching technique was perfected. No less a figure than Rembrandt, the "magician of etching", brought this discipline to perfection. New techniques developed, such as aquatint etching, which reached its peak with Goya. To this day, these processes of the great masters have lost none of their fascination. Once you have conquered the high art of the various techniques of etching, you will remain addicted to them.
The participants are introduced to the techniques of etching and have the temporally coherent opportunity to realize their own picture design by means of multi-stage aquatints and/or line etching, drypoint, scraping art up to Vernis mou and to hold it in their hands on the same weekend! Experimental work is also possible. Two presses up to 80 × 100 cm are available for printing. The practical work is accompanied by information on the history of etching and art contemplations. Please bring drawings or similar, if available.
Day 1, 13.00–18.00: Introduction, preparation of the zinc plates and paper, working on and etching of the plates, test prints, possibilities of correction
Day 2, 13.00–18.00: Further work on the plates, printing, signing of test and print runs/final meeting
Material: Zinc, Etalon plates and paper can be purchased as needed / Consumables (paint, thinner, etc.) are included in this bill, tools are provided. Current prices are listed on our price page.
4 – 6 participants

180 € (incl. 19 % VAT) p.p.

Please make a binding registration by bank transfer at least 14 days in advance to an account with the purpose of payment: Aquatint Workshop Month Year

Registration: Please email (plus bank transfer) to info@druckgraphik-atelier.de.

Cancellation is possible free of charge up to two weeks before the workshop starts, after that 50% of the workshop price will be charged. Cancellation less than two days before the workshop starts will result in 100% of the workshop price being charged.
All our workshops are family friendly! Parents can bring (small) children after prior arrangement. Let us know.