linocut • letterpress • bookbinding
Fri. December 8, 1—6 p.m.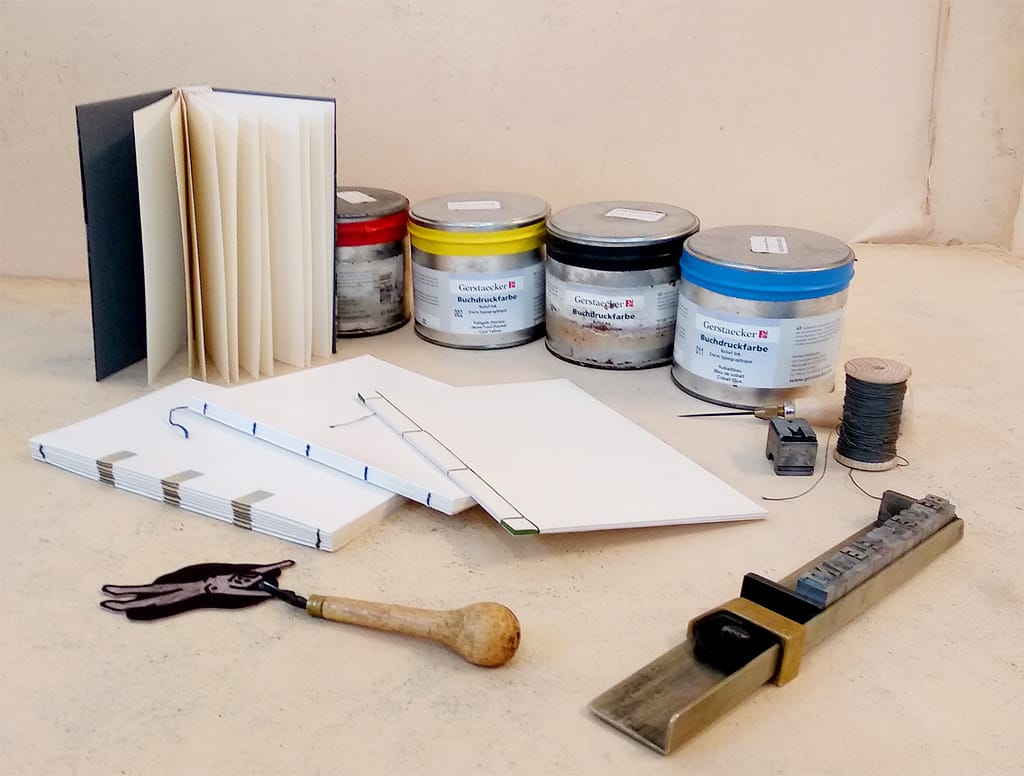 The participants realize simple motifs in linocut, or typeset a few lines in letterpress. Printing is done on the covers of small booklets that are bound at the end of the workshop. Personal and individual sketchbooks are created in a relatively short time.
Friday 13.00–18.00 – Introduction, transfer of the motif to the lino plate; or setting in letterpress, folding the cover paper, printing the covers, folding the paper for the inner part, introduction to the bookbinding technique, binding the folded sheets (layers).
Material: Linoleum plates can be purchased on site. Paper for binding two booklets of 16 pages each (4 spreads) is included in the workshop price. Additional paper can be purchased on site. You may also bring your own paper. Consumables (paint, thinner, etc.) are included in the workshop price. Tools are provided. Current prices are listed on our price page.
4 — 6 participants

85 € (incl. 19% VAT) p.p.

Binding registration via bank transfer to our account 14 days in advance. Please include subject for payment: Letterpress Bookbinding Workshop Month Year

Registration: Please email (plus bank transfer) to info@druckgraphik-atelier.de.

Cancellation is possible free of charge up to two weeks before the workshop starts, after that 50% of the workshop price will be charged. Cancellation less than two days before the workshop starts will result in 100% of the workshop price being charged.
All our workshops are family friendly! Parents can bring (small) children after prior arrangement. Let us know.