Lithography • printing from stone
Thu. and Fri. November 23—24, 1—6 p.m.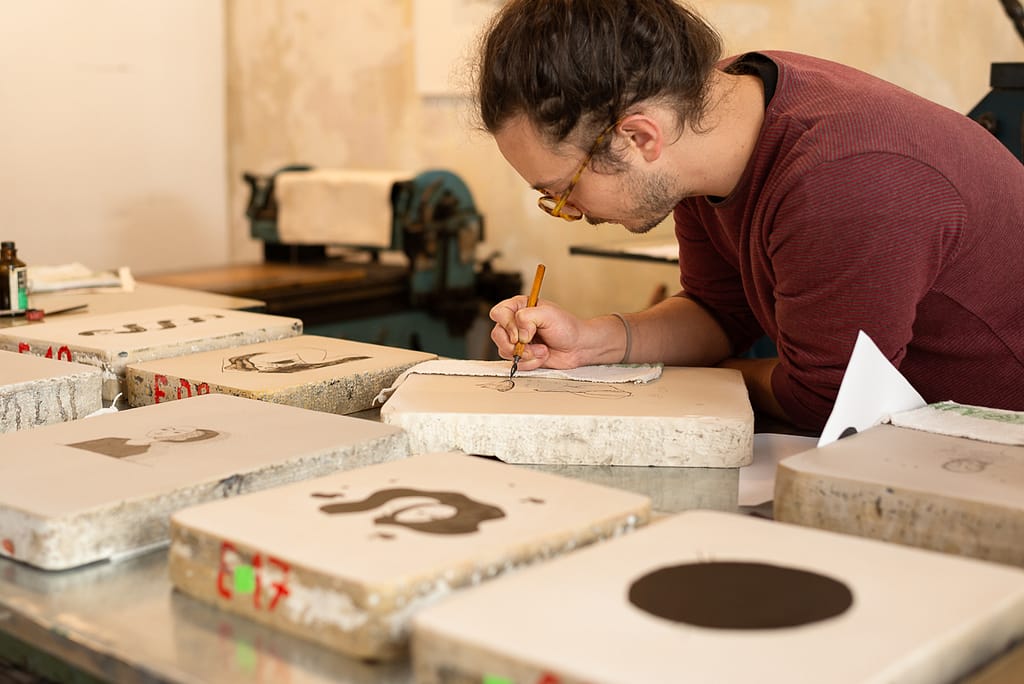 Participants will be introduced to the technique of lithography. They will learn how to print from stones, from preparation to drawing, etching and printing. The practical work is accompanied with information on the history of lithography and offset printing as well as artistic and technical considerations. Please bring drawings or similar, if available.
Thursday, 13.00–18.00 Introduction, Preparing the stones and paper, Drawing on the stone, Getting the stones ready to print, Printing, Possibilities of correction
Friday, 13.00–18.00 Getting the stones ready to print, printing, deleting the drawing
Material: Stones, ink/chalk and printing inks are provided.
Two stones can be drawn. We guarantee the printing of at least one stone. Five prints on normal paper and one print on artistic cotton paper for each stone are included in the workshop price. Additional prints will be charged according to consumption. Current prices are listed on our price page.
2-5 participants
With up to 3 participants, the workshop will only take place on Thursday, from 11.30 a.m. to 6 p.m.

230 € (incl. 19% VAT) p. p.

Binding registration via bank transfer to our account 14 days in advance. Please include subject for payment: Litho-Workshop Month Year

Registration: Please email (plus bank transfer) to info@druckgraphik-atelier.de.

Cancellation is possible free of charge up to two weeks before the workshop starts, after that 50% of the workshop price will be charged. Cancellation less than two days before the workshop starts will result in 100% of the workshop price being charged.
All our workshops are family friendly! Parents can bring (small) children after prior arrangement. Let us know.